I found this "project" on Kirsty Wiseman's site, Kirsty writes and designs scrapbook pages for craft magazines in the UK and her site is ranked number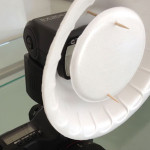 9 in the UK for crafty blogs, so if you are into crafting, Kirsty's is a great place for you. This post is for you if you are looking into a couple of minutes of work and getting some kind of home use flash diffuser. This one is based on the shape of a beauty dish, you don't expect it to get you the look of a beauty dish, but it will be a nice lighting modifier for your flash gun, probably better than the "normal" flash caps you probably already have.
DIY BeautyDish – Building a 1$ (or less) "beautyDish":
What you need for this DIY project:
2 x polystyrene dishes.
2 cocktail sticks.
A small piece of foil.
Double sided tape.
A cutting knife.
A pair of scissors.
Those are very simple to get and you probably already have them at home.
Found this DIY helpful? PLEASE share it with your friends! JUST PUSH THE BUTTONS!