Want to become a good photographer and need to gather essential photography equipment? If you decided to start a photography business, you can be even intimidated by the amount of the photography equipment and its diversity. It is not so easy to choose the right and the most appropriate things for the first time. Here you can find a photography equipment list for beginners that will help you to figure out what exactly you need.
Camera
It goes without saying, that you won't be able to manage your business without DSLR camera. It is your main photography equipment, so you need to get serious about finding the best one for you. First of all, define your own photographic style, requirements and wishes and choose that camera that will suit you perfectly. The most important thing you should know while choosing the camera and other equipment is not to fall for the beautiful and shiny look or a brand.
Consider about such kinds of digital cameras:
Compact digital camera. It is also called CSC and this camera is considered to be the photography equipment for beginners. These basic cameras are small and easy to use but the most of them do not have removable lenses and different other special features. Highly recommended for amateurs.
Action camera. Such camera resembles a usual compact digital camera in many ways, but this one is created for the different weather conditions. The resolution of such cameras is much higher than other cameras have, but lens options leave much to be desired. Highly recommended for travel photographers.
Digital SLR camera (DSLR). This camera mainly stands in the first place in the photography equipment list. It will provide you with interchangeable lenses, plenty of other interesting features and all it has a high-resolution. Highly recommended for all pro photographers.
Mirrorless camera. The capabilities of this camera resemble the DSLR, but there is no internal mirror, which provides the light reflection into the sensor. It is more simple to use and the shutter speed of this camera is higher than in DSLR. The resolution of output is also good, but there are fewer lens options. Highly recommended for mobile/event photographers.
360 camera. Such camera will provide you with panoramas and videos with the help of back-to-back lenses. It is considered to be more durable than a DSLR camera, and what is the most interesting, it can be placed on the moving objects, like helmets or cars in order to take amazing shots. Highly recommended for real estate photographers.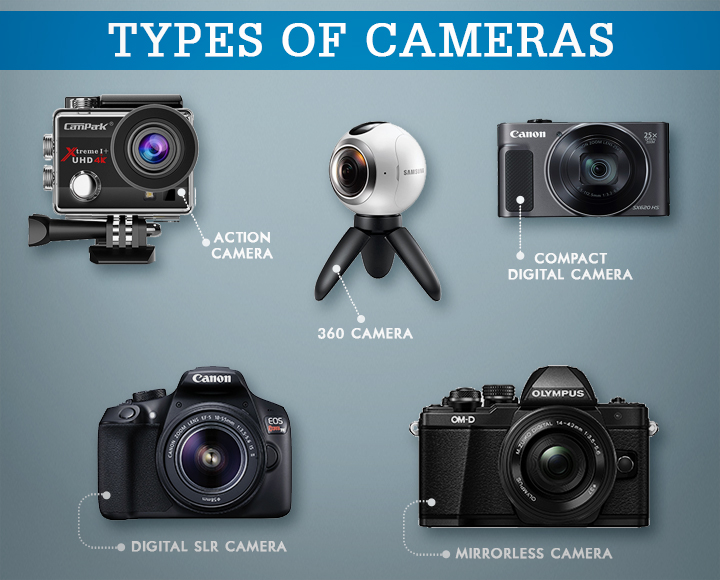 Lenses
The lenses determine the quality of the photos – proper focal length and level of blurriness. While considering lenses you need pay your attention to such things, as aperture and focal length.
The space between the lens and the image sensor is called the focal length. As a matter of practice, wide shots require smaller focal length, and more detailed photos, accordingly, need larger focal length.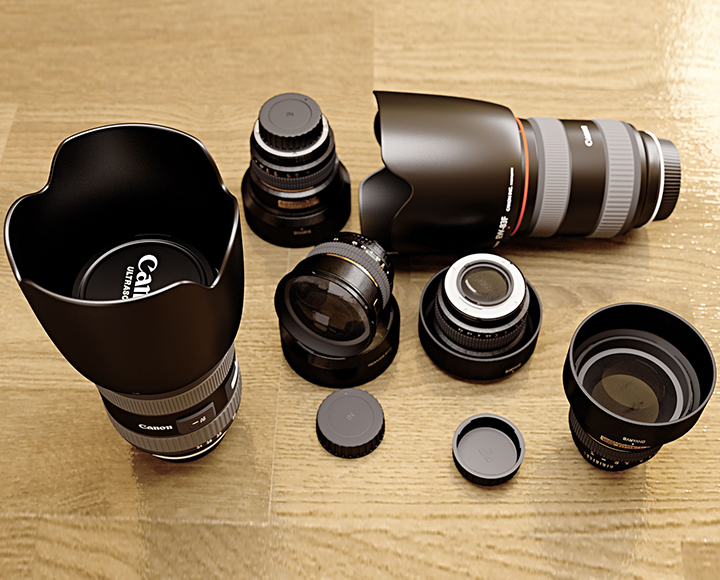 In general, there are 4 common lenses in the photography equipment list:
24 mm focal length – are commonly used for wide-angles photos and landscapes.
50 mm focal length – can be used for all common types of photography.
85 mm focal length – for portraits.
300 mm focal length – are used to take amazing action photos.
The aperture of the lens means that amount of light that a lens can gather. For example, the camera lenses that have larger apertures are capable to gather more light. If your style of photography demands more light, you can also consider additional lighting photography equipment that will help you to make your photos better.
Filters
No matter in what photography genre you are engaged, any time you may need the specific filter for the lenses. This filters can take different roles, as protecting your lens, improving selected colors and reducing light, if it is needed. Among the common lens filters that will help you with your work, we can distinguish such ones:
UV filter
Polarizing filter
Filter with warming/cooling of colors
Graduated neutral density filter
Filter for special effects (Polaroid, sepia)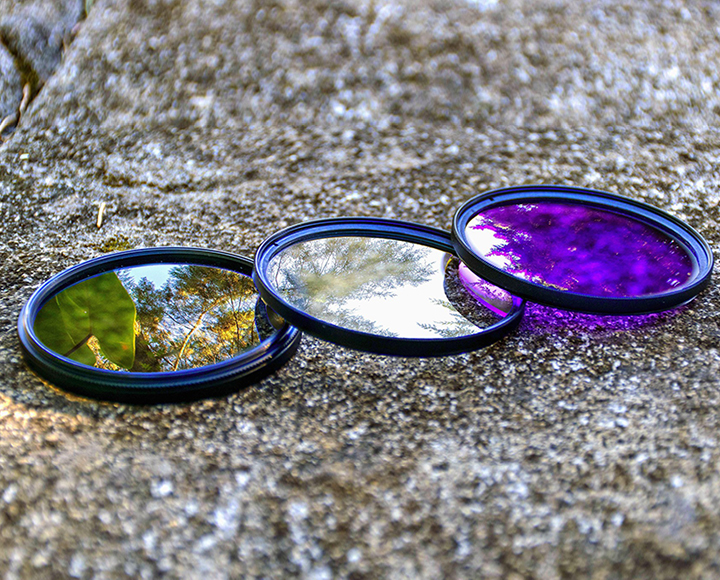 Tripod
This photography equipment is a three-legged construction that helps you keep the camera stable and remove blurriness. The tripod is really necessary for photographing with a long exposure. In addition, it leaves your hands free and it gives you the opportunity to clarify your images with no hurry.
Photo editing software
The photo editing software is an essential equipment for every photographer to complete their work and enhance the photos. In general, there are plenty of different editing softwares for every tastes and price: Adobe Photoshop for difficult photo manipulation and portrait retouching, Adobe Lightroom, Capture One and ON1 Photo RAW http://fixthephoto.com/on1-photo-raw-review.html for color correction and basic photo editing. You also should not neglect the fact that it is necessary to use license versions of any software as it gives you a lot of advantages. By the way, even if you have just started your photography way and can't do photo retouching well, do not forget that you can always address photography post production services http://fixthephoto.com/post-production-services and get amazing photos.
Camera strap
Even if you have a small camera, it would be better if you purchased a camera strap. It is a small and inexpensive thing, but it will ensure you the support and safety of your camera.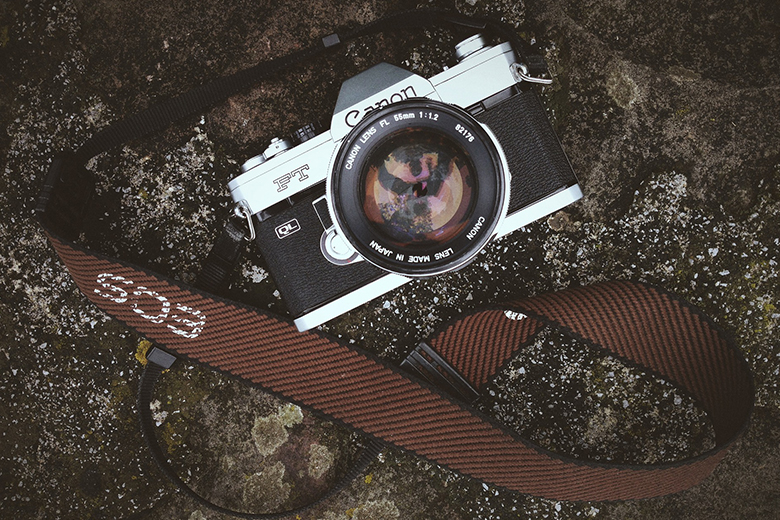 Cleaning photography equipment
The main rule that relates to the photography equipment for beginners and professionals is to keep all the devices clean. This simple rule will not only provide you with quality shots, but also will help your equipment serve you longer.
Consider about microfiber lens cloth. It does not include chemicals and cleans the lenses very delicately without leaving any scratches. Gel stick, in turn, will help you to clean your camera from the dust.
Memory cards
Every kind of photography work may require additional space on the camera, so it is smart to invest in memory cards to store more photos. It would be better for every photographer to have a few cards, just in case.
This is the basic photography equipment for beginners you should have in your bag. Don't choose the most expensive models, prefer average prices if you just start your photography business.