Hi, after my first (and positive experience) with the YN565EX (you could read about it here or read my review for the yn560EX here ) I decided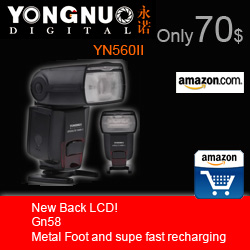 to get one more flash unit into my strobist bag. As for strobist needs I only need a manual flash, good controls and flash power. I must say that at first glance you get it from the yn560ii, big time!
Update : There is another YN560 Model the YN560III available now, read our YN560III preview here. New our YN560III review (20/3/2013)
So lets start with some quick specs with the new model yn560II:
Power: The Yongnuo Flash has a guide number of 58 which puts it in front with the other big flashes like the Canon 580/600 and Nikon 800/900/910. This will be plenty of light for  your needs.
Manual control (only): This flash is manual only flash, no TTL support and no af assist beem, but it offers lots of control, actually all the control you'll need from a strobist flash.
Salve Modes : That's what I like about this on, it has accurate and very useful S1 and S2 slave modes.S1 and S2 are optical slaves sensor in the flash that will fire the flash when the sensor senses an other flash fires around.S1- triggers the flash normally while S2 mode will trigger the flash avoiding the pre flash, in case you camera uses pre flash to adjust focusing.That makes it handy as an off camera flash even if you don't own triggers yet.It can even be used with your pocket camera
 Connectivity : It has a standard PC socket in case you'll need to trigger via PC connection. An external battery pack can be used here too for getting its recycling times even better and getting some more flash fires before juicing up your batteries.
Bouncing : You can tilt it both ways right/left and up/down like all other flashes.
Zoom Control – the flash head can be controlled from 24mm to 105mm all manually.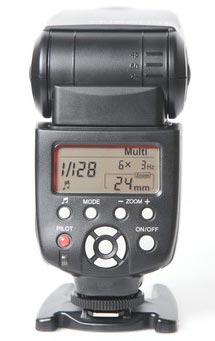 I must say that I came to this test with lots of concerns, there are some negative reviews about Yongnuo stuff on the net, so I was very surprised when I got mine, so here are my first impressions of the yn560II flash:
Building Q : Very good! when I oppened the box and got my 560II I was very positively surprized, the plastics and feel are very good! It even surprised me more when I tilted its head, it has a smooth sound and good feel.
Recycling times : this was actually a big surprise for me, it recycles noticeably faster than my Canon 580II. At full power with fresh batteries in both flashes, the Yongnuo yn560II is ready for the next flash faster than Canon's flash, I was actually thinking at first, that I did something wrong or don't understand it right, but that how it was…
The screen : If you had the first yn560 version youl'd probably remember the mini lamps for the flash power, well now you got those numbers where you can see'em.
Power Control : In the older version, there where those mini lamps for full stop control – 8 steps from 1/1 full power to 1/128th full power.In the YN-560II you can now control the flash power with 1/3 stops too, in a very easy way – the right and left arrows will adjust the power in full stops steps while the up and down arrows while make 1/3 steps jumps. This makes this unit very versatile!
Update: There is a more recent model in the YN560x arsenal, the YN560III. In general both give the same output and same good old strobist stuff you want, but there are two differences between the ii model and the iii model:
The YN560III has a built-in radio trigger and it will work with your RF602 and RF603 triggers!!! This is a very cool new feature.
YN560III costs about 20$ more than the "older" model. While the YN560II starts on eBay at about 70$-72$, the YN560III starts at about 92$.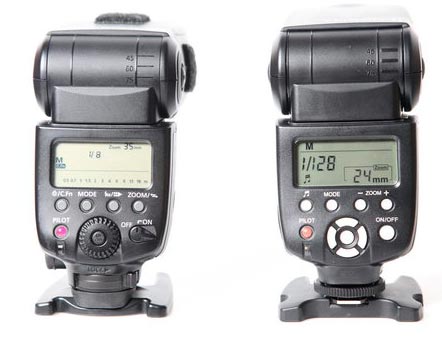 Bottom line: The newer yn560II is a much more user-friendly flash unit for the strobist compared to the yn560(I), the read LCD screen is a very welcomed change. Building Q is very good.
If you are looking for a second manual flash for your strobist fun time, this one is a very good option to consider. For under 80$ this flash is a great  bargain! I enjoy it!!!
What do you think about it?!