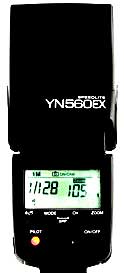 ***For the first time and after some days of testing the YN560EX I have to say , this flash is in my opinion the best ( by far)  value for your money! Now after revealing my bottom line, go on and read further or go and buy yourself some! (at the end of the post to read why I'm so impressed).
Hi I finally got the new YN560EX flash for a review and had to run my tests on it for a while, but I'd like to share some of my first impressions in this post, and there are some nice things to say about the YN560EX, so keep on reading!!!
First of all, this new flash is a more advanced version for the YN560/YN560II having one major difference , and it is it's ability to have TTL while its off your camera , controlled by A master flash (like the Canon 580/550) or other ST unints. Therefore if you are a TTL shooter, the 560EX will be great for you! The YN560EX is another step in the YN flash development as they offer some impressive stobist flash units already, and it has the same specs like the YN560II (You  could read my YN560II review here)
Update: There is a new model to the YN560x series you might be interested in – YN560III with build in RF602/603 trigger, previewed here.
YN560EX What you'll get:
The YN-560EX can be triggered by 580EX II, SB-900/800/700, 7D/60D/600D, Nikon c-command and ST-E3, and flashes in i/ETLL mode as well as M/Multi mode. To enjoy wireless TTL lighting, ratio control, as well as remote control of output level, you may only take a camera with built-in commander mode, and the YN-560EX.
A new appearance: It has a nice LCD screen and better looking/feeling buttons than the "Old" yn560II.
Multi flash supported: You can set the flash to fire a burst of flashes during a desired period of seconds.
GN58 @ ISO100, 105mm: about the same as the Canon 580EX or Nikon's SB-900.
Multiple trigger mode supported: The YN-560EX can be triggered by hot-shoe, flash command slave mode, optical S1 and S2 (per-flash-cancelled mode).
Supports motor zooming (24-105mm): It covers a focal length range of 24-105mm by operating the zooming buttons
Supports remote TTL functions: In the case of remote mode, FEC, FEB, Rear curtain sync, FE lock is supported
Super speed charging: They say it only takes 2 sec to recharge after a full pop, I never measured it, but as mentioned on my pther YN560/565 reviews, it actually recycles faster than my Canon 580EX, so its good enough…
Buy the YN560EX
YN560EX First impression:
You get it in the normal YN box (very similar to my other flashes reviewed) they are consistent with the gold and black box design. The flash box was in a bubble protective package and looks like had a good journey to my local post office. Have to say that this item delivered in  a record time as far the eBay and Chinese shipping experience I had until today, it took it about 10 day to get to Israel, while other item ordered 7 day before the YN650EX haven't showed up yet…
When you open the YN560EX, you'll immediately notice three things :
This one is build of different materials than the YN you got used to. The plastics hava a better feel, they are a bit more rough feel. You will also see a new button materials (their position is the same).
The battery compartment is a little different ,you'd have to slide in down to open it, but if you used the YN560II before you'd see the difference.
While the YN560II and the YN565EX had the same Canon 580EX body with the Canon 430EX back, they gave the YN560EX its own look.
The rear LCD screen – once again I was very pleased with the addition of the LCD screen that came with the YN560II, a big big improvement/leap from the led display of the old YN560 and the cheaper YN460. The screen here gives the same data, but the important digits come in bigger size and are clearer. I like it this way.
Does the YN560EX works?
It works great and as published. It has 4 slave modes ,the usual S1/S2 optic slave, who became a standard today (S1 – Fires with every flash he feels while S2 – knows how to ignore pre flashes ). What really interests us are the SLAVE c and SLAVE n modes.
Slave c – Means it can take commands from Canon master controllers , Cameras, flashes and triggers.
Slave n – Means it can take commands from Nikon master commanders  , Cameras, flashes and triggers.
Now here is the really fun thing about this flash, which is the most affordable flash on the market that can do this ,read it slow and read it well, cause that's the magic thing about the YN560EX flash –
If you have a camera that can control the flash via built in menu (5MKII,600D,7D and so on) you can control the flash from the camera without touching the flash and it works!!! You can switch from ETTL to Manual flash modes without touching the YN560EX, you can adjust its power and flash compensation. If you have more than one YN560EX flash, you can set them to different groups (A+B+C) and control each one of them separately (I promise to put a post about it later) .
The only two things that bothers me in the YN560EX review are:
When you are in the wireless modes, and the flash is controlled by other controller, it won't show on the flash in which mode the flash is (ETTL or Manual), it works just like you prompt it in the camera , but the back LCD screen won't show it (I'm referring to the wireless Slave c/n/cn modes only).That means that if you control the flash from your camera menu I use it with my Canon 5dII, even though you switch from ETTL to Manual and you know the mode you are in, the YN560EX won't show you that…
Like the YN565EX, it doesn't supports HSS, and will go as fast as your camera flash sync will let it. I must say that I'm hiring a good feedback from photographers who use the YN568EX (about 185$) that does HSS, so you can try it too.
I must say that I'm new to this, there was a time that I photographed weddings, holding the second flash up with my left hand , and that was the only time I used the IR Canon controller , but now I'm sure I'll use it much more, especially combined with the YN622C controllers I have now!