Hi folks,
I started following some photographers on Instagram lately find it to be a great source for inspiration. I must admit that I really abounded the photography for the last few month although I had some photo sessions ideas and plans on the going.  However while I browse once a day on insta I found a cool hash tag about guitars and saw this guitar player portrait, I decided to give it a try.
The studio as you can see in the behind the secenes here is  my leaving room and the whole shootout took about a hour , while my wife and two kids went to visit their friends in the next house, so you can do it too, you only need a guitar and a flash.
The Setup
This is the gear used here, it is in every strobist photography bag really no big gadgets here:
Light stand + Boom arm + 80cm octabox + grid – well I guess that you all have the light stand and the softbox , but I found it very useful to have the boom arm and a  grid for the softbox. I got them from amazon (links) and I use them a lot . The boom arm allows you to point the softbox from just above the object and the grid really help making a concentrated light.
Lighting gear – YN568 in the softbox with my DIY horizontal flash holder I did here before.
Triggers– I used here the YN622, you probably already know it, it's an amazing tool and it costs now about 42$ per unit,  if  you have camera that supports flash control from  the menu, the YN622 will be your first choise
Camera and Lens– Canon 5DII – I love it + Canon 24-105 F/4L
How to photography your self guitar portrait?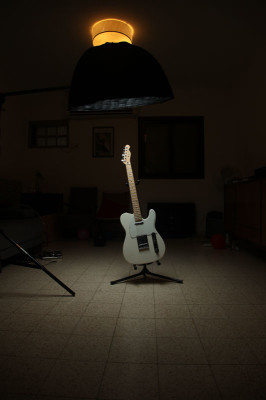 I set the camera timer to 10 sec, as I don't have a radio control trigger for the camera (this has to be my next buy) and had push the shutter every time and go seat in my position for a couple of times. The key factor here is setting the correct setup and taking some test shots before you start running. It took me a couple of testing images until I found my sweet spot somewhere about
f/6.3 1/160th iso 250
YN568 at full power
adjusting the hight of the softbox to prevent light hitting the walls around
Out  of the camera image: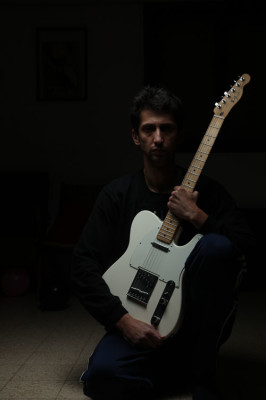 As you see, some of the background isn't totally dark, this can be easily fixed with Lightroom:
To get the background darker, choose the adjustment brush and set the exposure to -1ev or more/less and start deleting the background. here is what you get :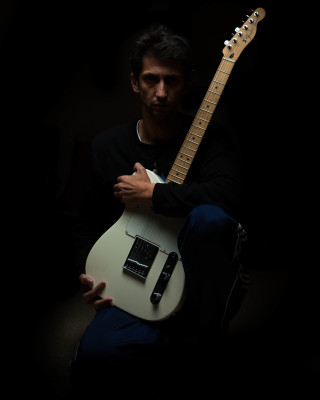 What do you think about it?
Show as your images, Just comment bellow!