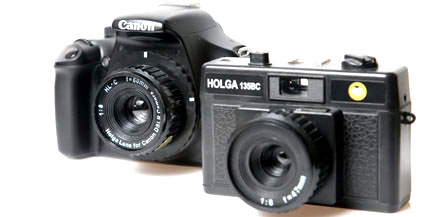 Some time ago, I wanted bad to shoot some film, yes you know I was practically born into the digital era (had a Pentax "digital camera" before my first Canon G3!!!). So I played a little with some films until my son decided that the film camera is his,and I had to get a "new" one. As I had all the digital stuff I wanted, I decided to get something else and bought a plastic  stupid simple camera (the one on the right side) "Holga". As far as I know (and I'm no expert on this topic), Holga was a camera for 120 slides (square images), but some guy in China/HongKong decided its time to do a 35mm version.
What was fun about the original?
As there where no or very little quality control in the original Russian factory, and aiming for a budget and affordable camera, they went and produced a plastic lens for the camera, this plastic lens combined with some light licking into the camera and defused black corners , somehow became into a hit! There are still fans for that use that for fan and more (see flickr here). What I liked most with the my toy Holga was that sa of its plastic lens, lack of auto focus , it delivered some old looking images, the kind you have to Photoshop it if you want to get it out of your digital camera. I know I had some scans somewhere here.
So one day I get an Email from a friend that told me:
Friend: Hi you remember that plastic holga you got?
Me: Yep, I know?
Friend:Well, you can get it for your digital, here is the link.
Me: TNX! Read more →