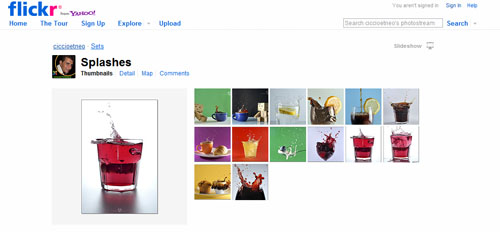 As I wonder the web for inspiration , I looked for some diy ring flash on flickr.com examples, then I bomped into this guy Francesco Pappalardo who has a very active flickr gallery and I really liked one of those galleries about splash photography. The above image is just a print screen of his flickr gallery, you can browse to his gallery here : Francesco Pappalardo on flickr .
Francesco uses here a diy light box where he put the "splashy"  objects in and photographs with a basic high speed flash technique : 1/250th sec f/7.1 iso 100 and of you go!
The best image of 14 images in this gallery is :
A bit under exposed, but this on has the most interesting setup.
Thats all, it looks very simple to implement.