Hey, haven't been writing for the last couple of weeks as we have a new baby girl in our family, thats Naama who keeps as busy !!!
For a while I want to build myself a portable multiple flash holder, it isn't a very hard project to do, and after the videos you'll below I must say that you'll do one too…
Why you need to use more that one flash?
In case you are shooting in daylight and the back of your scene is very bright (relatively to your photographed subject) you'll need some flash power to correctly expose the front subject while getting the desired background. Another reason why to use multiple flashes is, to get faster recycle times.
If you one flash at full power' you'll get a slow recycle time, but if you use two flash at 1/2 power you'll get the same flash power but significantly shorter recycle times.
So why I'm writing about that? Well I know a website for a long time, thats Dave Black's site, Dave is a very known sports photographer and he show on his site how to use speedlights for this kind of shooting. But while I was surfing on YouTube I found out about some videos he published. I must say I was very sceptical with the first video i saw, the surfers video, he uses a gigantic 8 speedlight  holder(!!!) and photographs surfers as the flash combo is placed about 100 feet  away from the surfers, I said to my self  "hey that's never gonna work"… but he shows some results of his this shootout for cases where the flashes fired and when he didn't use the flash, so I can't argue with those  😉 …The results are nothing but amazing!!!
Then I continued watching his other films (the motorcycles).You must watch those videos!!!

Yes I know those videos are nothing but amazing and you want to shoot those kind of photographs too, but in case you don't have 8 speedlights (I have only 3…), you could buy this thing from Amazon: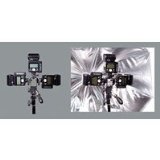 If you used multiple flash before or if you did such a DIY project, please let as know on comments section below!