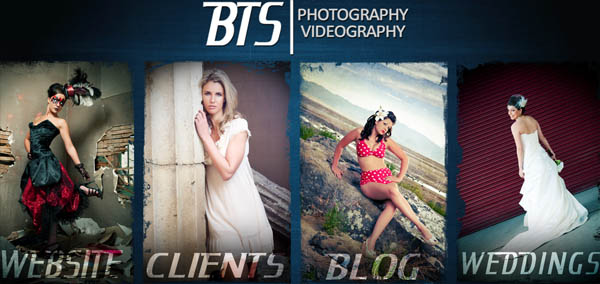 Hey, I wanted to share with you a very talented photographer, Ben Sant, based in the USA.
Ben has on his blog some very useful behind the scene tutorials for portrait and fashion photography using small of camera flashes, like we all love to use.
I include here two of his videos, one covering some tips on one of his winter fashion shots. en has a very unique way to explain stuff and a fresh approach to photography, so I'm pretty sure you'll enjoy this.
On the winter set he mainly uses only one flash, trigger and a 43 inch studio umbrella (and a boom stand), this type of studio equipment is very affordable and I'm pretty sure most of you reads own this combination.
This video covers two basic concepts:
1. Underexposing the background about 1 stop for getting black and contrasted shadows.It is very important to under expose the background when photographing snow. Snow is one of the trickiest modes the camera's light meter can face , so Ben tips us to check the images histogram while shooting so we don't over expose the snow.
2.Lighting up the model with the main flash. Ben uses a Nikon SB-800 and a 43inch fordable umbrella on a book lightstand pointing the model from above.
Bottom line-
I really like Ben's work and I'm pretty sure I'll post about him in he future as he has another couple of great videos both outdoor location and indoor.
You can keep track with  Ben's work on his video channels and blog (I'm listed to all three!)
Big Ben comment and tips to this post: (04/12/2011)
I am quite humbled and honored to have been featured here in DIYphotographystuff.  I started created behind the scene and lighting tutorials several years ago when one day I sat down and reflected on how difficult it was to learn the technicalities and basics of photography.  It is a cutthroat industry where secrets are rarely shared in fear that one day we may become each other's competition.  With the advent of digital imaging and death of film (in a profitable) photography business, more and more people are picking up ever easy to use DSLR's and trying their luck at profiting in photography.  While perhaps we may be the death of our own kind; which is a completely different discussion, I decided that a "no secrets" approach in educating novice and amateur photographers would be the decent thing to do.  As a cinematographer, it was really no extra effort to bring my film crew along with me on my conceptual portraits and strobist-oriented shoots.
If there is one concept and point to be gained, it is to get your camera out of manual and "semi" manual modes i.e.: Av, Tv, P, etc. and get into Manual mode.  Learn the basics of exposure and how The Big Three- ISO/ASA, Aperture, and Shutter affect each other.  Learn to capture images using natural light before moving in to off camera and artificial lighting.  Once you are comfortable with getting around in all types of natural light, you may step into strobes and speedlights.  Again, learn to use them in Manual mode, not TTL!
1.  There is no need to buy the newest and most expensive flash on the market.  All you need is a flash with a Manual mode, adjustable power output, and a sync port to connect your radio trigger or other device.  Old Nikon SB-24's, 25's, etc. will do just fine and cost less than a 100 USD.
2.  Get the flash off the camera.  On camera lighting or bounce lighting is going to be flat and non dimensional as it is on the  camera axis.  Remember we are capturing images in a 3-dimensional world and changing them in to a 2-dimensional photograph.  Depth and Dimension have to be created by manipulating the direction, quality, and quantity of light.
3.  Get out and shoot!   You can read all the resources and literature out there.  But unless you are out in the field honing your techniques, expressing your artistic creativity, and challenging yourself you won't go very far.
4.  Set an example and be professional.  My work entails me in shooting a lot of models.  Don't be the typical "GWC" (guy with a camera).  If your intent is see beautiful people of the opposite sex in the nude or close to it, you're in the wrong business.  Don't use photography as a tool to get others to get in exploitative circumstances so you may fulfill your own private fantasies.  There are plenty of these guys ruining our industry as it is.  You'll notice on my site there is no images of lingerie, oiled-up women in bikinis, or showing off there bits and nether regions. Although I am not against those concepts.- Fine Art Nude Imagery can be amazing…  But as there are so many GWC's shooting these themes, I want to distinguish myself as someone who is different.  I've made my success on shooting what everyone else isn't.  I find it wise that you do the same.
Resources:
I find the following site as avenues for inspiration and education:
And lastly check out Framed.  The have content for each day of the week.  The main episodes each Tuesday are something you don't want to miss.  Check out my Monday segment titled "Equip Tips" to go into the geeky side of gear and hardware  http://www.framedshow.com