Hi, this time I want to introduce you with Tomasz Nowak (photography site and facebook page), Tomasz shoots weddings and children in Poland, but as I found out is a very talented strobist photographer. I first met this simple studio setup on strobox (a source for many ideas for any level photographers). Tomasz uses here a basic two light setup, the main light is made of two entry level YN460II strobist style flashes in a softbox front left side of the model (in the next post you'll see how he fixed them in) and another YN460II as fill hair light through a snoot from the back opposite model's side .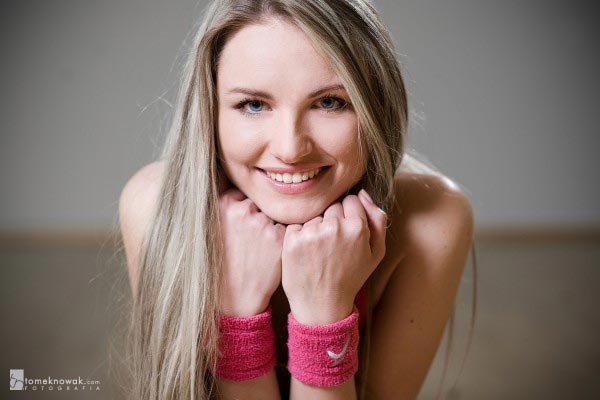 So lets dig in and see how its done!!!
Here is a simple sketch (I must say the he is also talented with sketching those)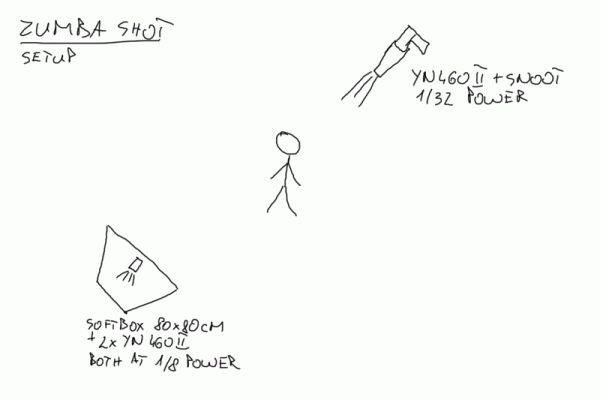 This lighting setup is pretty easy to do:
All the shots were shot with Nikon D700 and 85/1.8@f2.8, 1/200 and ISO 400.
Softbox with 2 YN460II at 1/8th Power rather than having one Yn460II at 1/4th Power (so getting fast recycle times).
Hair light YN460II with snoot from behind to get some good separation from the background.
Very easy!
Here are some general tips from Tomasz:
some of the shots were done while the models were in motion, so i wanted to shoot couple of frames one after another. One speedlight  flash set to ¼ power recycles rather slowly but two of them, both set to ⅛ power recycle much faster. and I was able to shoot more frames at a time.
a standard studio flash wouldn't be helpful in this situation. Most of them recycle only to level of the required amount of power, so you're not able to shoot a series of images because of recycle time.
We have different situation when using speedlights – they always recycle to full power – that means if you have a flash set to ⅛ power you can theoretically shoot 8 frames before it's empty.
Here are some more images taken in that set, we'll be happy if you post your thoughts  here .
[subscribe2]