As you may know if you read my site,or if it is your first time around,I do recommend to learn about flashes and lighting by testing the studio setups that you'll find here and on the web with small flashes.This will allow you not to spent a lot of money on studio strobes before even knowing about flash photography and if you'll like it at all.
Almost every one has with his digital camera an off camera flash.Usually it will be a good start to explore your creativity with light and studio photography.Two lights will more than double the options.In this post I'll will go over some of the most affordable flash units that you can get.Don't feel cheap , as they give great value for the money.In this category I listed the flashes for the price range 50$-100$.So dig in and see which will be your choise for the first/second flash!
Vivitar 285HV Auto Professional Flash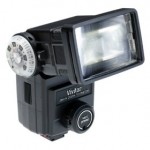 One of the most popular flash unit as for the strobist.com.The built-in variable power of the Vivitar 285HV auto professional flash provides you with fill flash and the ability to shoot properly exposed rapid-sequence pictures. This vertical bounce flash gives your photographs soft, professional lighting. The four f-stops give you control over the flash distance range and the depth of field, while the auto Thyristor circuitry allows for a faster recycling time as well as more flashes per set of batteries.
Sunpak PZ40X II Power Zoom Digital Flash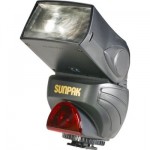 I have to say that this flash unit looks very impressive.With digital operation and a clear LCD monitor its will give you a great budjet option.
Sunpak, a division of ToCAD America Inc. announces the upgraded version of the popular Sunpak PZ40X, a compact, lightweight, full-featured, shoe-mount electronic flash unit for digital and film cameras. The new Sunpak PZ40X II retains all the advanced features of the previous model, but it is now dedicated to the top-selling Nikon D50, D70/D70S, Coolpix 8800; The new Sunpak PZ40X II also works manually with non-dedicated cameras employing a single-contact hot shoe. The PZ40X-II is also backwards-compatible- with TTL metering for all TTL flash Nikon Camers And even though it is 40% smaller and significantly lighter than previous flash units with the same features, the Sunpak PX40X II has an impressive ISO 100 Guide Number Range from 60 at the 24mm zoom-head setting to 120 at 80mm. The Sunpak PZ40X II provides such advanced features as TTL auto flash, i-TTL for Nikon, a large, backlit, full-info LCD, and a power zoom-bounce flash head covering 35mm-equivalent focal lengths from 24-80mm in continuously variable auto mode, or 5 manual steps. Tilt positions range from zero to straight up for maximum bounce flexibility, and the built-in, near-IR auto-focus-assist beam turns on automatically when needed. Other features include: 5 power ratio settings down to 1/16, flash-exposure confirmation, bar graph flash range display, and power-saving circuitry that automatically set the unit to Standby Mode after five minutes.
Metz MZ 36341 36AF-4C E-TTL Flash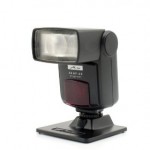 Metz is one of the best third party company out there.Some of the canon users will say that the pro Metz flash is better than the Canon 580EXII.It is very noce to know that Metz also has a budget unit.This Metz flash is designed to be totally computable with your new Canon Cameras sophisticated TTL system. Featuring an easy to read, backlit display, you will find this an extremely easy to use reliable unit. Technical specs: film & digital TTL; auto shut-off; AA battery size; battery type: Alkaline. NiCad. NIMH battery type; coverage: 0.94 in.; depth: 3.74 in.; display type: LCD; exposure OK indicator; extended zoom; guide number @50mm (ISO 100): 30 guide number (meters); height: 4.53 in.; integrated AF measuring system; max guide number (ISO 100): 36 guide number (meters); max recycle time: 5 seconds; number of batteries: 4; tilt: +90° head tilt
Phoenix DZBIS-112CII Digital Autofocus Flash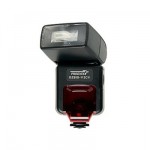 Phonix offers here the most less expensuve unit around.With your standard zoom, the built-in flash is usually effective to only about 13 feet, and that's when your zoom lens is set to its widest-angle setting. When you want to zoom in on the action, you'll find that the built-in flash does exactly the opposite of what you want. Its range is reduced to about 10 feet, and sometimes even less! It is even more annoying if you have a 70-300mm telephoto zoom lens. What is the sense of having the magnifying capability of 300mm but your camera's flash is only effective to about 10 feet?
When you want to use your zoom's telephoto capability indoors, requiring the built-in flash, your pictures come out dark, or even worse, not at all! Compared to your built-in flash, the zoom head of the Phoenix DZBIS-112CII (set at the tele position), allows you to shoot up to 3X further away with improved color, more natural lighting, and added depth to your pictures.
In addition to pure power, this Phoenix flash provides better looking photographs. It reduces or totally eliminates the annoying "red-eye" effect. Even when using the red-eye reduction feature of your camera (necessary because the built-in flash is too close to the lens) the flash reflects off your subject's retina directly back into the lens and often results in pictures with "red-eye".
The height advantage of the Phoenix DZBIS-112CII Flash greatly reduces or eliminates this "red-eye" effect. If your blue-eyed subjects still get "red eye", this can be totally eliminated by using the bounce/swivel feature of the flash head to "bounce" the light off a neutral-colored ceiling or wall, for professional looking portraits.
If you think I missed someone from this list you are free to let me know about it.Just post a comment below.
Enjoy!!!