In case you don't like to do some DIY (I don't know why cause it a fun thing to do),here are some gadgets for your hot shoe flash.I can promise that some of them will appear in the following weeks us DIY projects section and I promise to total cost will be much much much less.
HonlPhoto 1/8″ Honeycomb Speed Grid for Shoe Mount Portable Flashes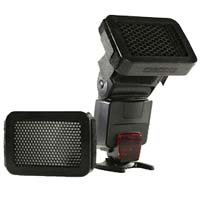 Thw 1/8 Speed Grid has a 1/8″ honeycomb cell size to effectively narrow the beam of light from your portable flash unit, producing a small circle of light on your subject.
Fits most any shoe mount and most handle mount portable strobes, including Canon 420 though 580 and Nikon SB24 though SB800. Attaches quickly and easily to Honlphoto's Speed Strap mounting system (not included, sold separately).
Usable honeycomb area is 3.5″ x 2.25″ (appr. 89mm x 58mm)- simply measure the front outside dimensions of your flash lens to assure fit. Rugged ABS/polycarbonate construction. Patent pending design.
Opteka Universal Studio Soft Box Flash Diffuser for  External Flash Units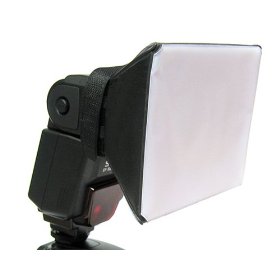 A dramatic, eye catching photo can mean dramatic profits. Getting a well exposed photo is extremely important. Photographers often turn to a flash to help light the scene. The problem is that flash can cause harsh reflections or glare spots or create deep shadows that distract viewers. This little, portable universal external flash diffuser will prevent those problems when using a flash. Simply put the unit over the camera's flash, point and shoot. The light will be softened and your photos will be well exposed, without the harsh glare spots.
Lastolite LL LS2438 15 x 15 Inch Ezybox HotShoe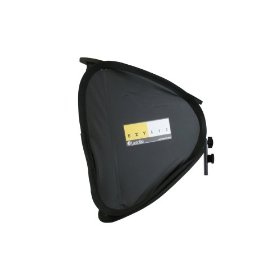 The new 45cm x 45cm Ezybox Hotshoe coverts your battery operated tilt head flashgun from a harsh directional light into a soft light, that can then be mounted onto either a light stand or a camera bracket. The Ezybox Hotshoe folds flat in the same way as the other Ezybox models, but does not collapse.
Interfit Photographic Strobies EFX Kit for Shoe Mount Flashes, with Snoot & Honey Combs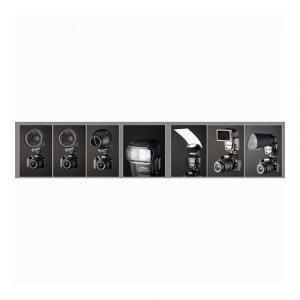 The EFX kit is the perfect addition to the Portrait kit. By adding the additional items in this kit. You will soon create drama inducing side lighting to your portraits by using the two honeycombs with the Flex Mounts to create highlights on the side of the face of your model. The snoot or bounce tube can be used as a hair light to produce unlimited effects and light on the back of the hair. The Velcro strap with the Honeycomb could be your background light. For a smaller spot light on the background why not use the "Velcro on" Honeycomband bounce tube together. For Product photography the EFX kit comes into is own by using the snoot you canhighlight the smallest details which can be used with or without the front honeycombs to guide the light forward. In addition you could use the Flex Mount honeycombs to create a wide area spot concentrated on the background or the subject.