Hi, this time I wanted to share with you an old post you might have missed, Its about how to make you own custom fashion camera bag.
The idea published on Abi's blog (here) from Portland Orlando who is running a photography and fashion shop.
You can see the final outcome here: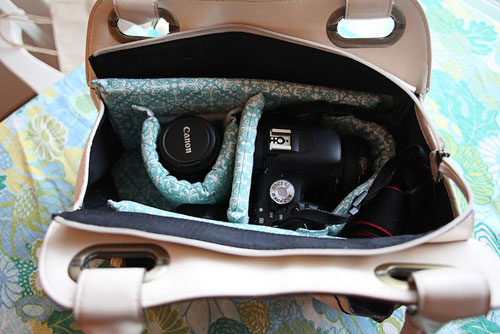 In general, this is what you'll need for you next DIY project:
Some Foam trips – it depends on how big your bag is going to be and how many items you are going to store in it. Abi used in this project to types of foams diferring by their thickness . The camera bag outline – using 2cm thick foam while for the inner parts Abi used a1.5cm thick foam.
Velcro Strips – get a package and you'll have some leftovers for your next projects.
Bag – no need for explanations here `-)/
Fabric- here you can go wild and choose the colors and textures you'll never find in a "normal" lowe bag.
Here are some images from Abi's post (all the images are via Abi's blog):
For more details you can refer to the original post here.
Share it!!!