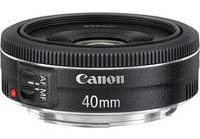 I'm really thrilled now, as I've just find out that Canon announced a 40mm Pancake lens.  The pancake lens are lens that are very "short" and therefore are also light weight.
Why I like it? several good reasons:
lightweight – I decided to buy a lightweight camera (probably one of the canon 600/650 models) during our last trip to Spain, I finally realized that touring with a bug of camera gear isn't very fun- it's heavy and you are to worried about someone robbers your bug as you snatch something at McDonald's…
Small – small is good, cause it doesn't worry people when you go on some street photography.
Specs – Its an EF lens, so it will fit your Full Frame camera and your Crop camera as well. F/2.8 will fit most of your low light photography needs.
Silent focus motor will make it great for video photography too.
Close 0.3m minimum focusing distance, that very close.
Its suppose to be available at the end of June 2012 for about 199$ so its an affordable glass (Currently available only at B&H pre order).
What do you think about it?