Hi , I wondered for some time if to get myself a set of those YN622? I've been enjoying the YN602's for a long time and loved to manual control my off camera flashs.I didn't think that for my type of photography, I'd have to get a better radio trigger, but as you get more techy and some what lazzier you want to treat your self with a new gadget. So I ordered 3 YN622C set to see how good are they, there are some reviews around ,shared some links in the bottom of this article for the ones that put in some work in reviewing this, but lets read my point of view!
Some general things you might what to know before ordering: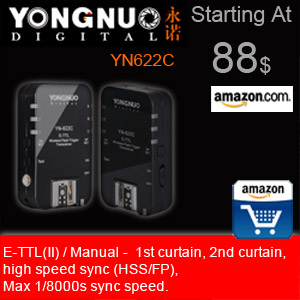 What can the YN622C do?
The YN622C is a "high performance master and slave equipment for multiple flash photography" (that's what they say about it in Youngnuo).
Its a two-way transmitter-receiver (Each unit can be used as a transmitter and as a reciever).
IT allows your camera to control multiple flashes at the same time.
It runs on 2.4GHz radio with 7 channels and 3 groups (A, B, C).
With supported flash models it can do almost anything you can ask for – HSS control up to 1/8000th/ses, E-TTL ratio
How does the YN622C fit in the market?
The Pixel King – A set of three YN622C trigger units costs today about 140$ (it was about 150$ on lunch days but slowly goes down), this price tag makes it the most affordable+advanced trigger system out there, if you think of features per dolars, the YN622C will be the best value. Whoever the nearest unit in this price range that offers camera menu control abilities is the Pixel King. A 3 piece set (1 transmitter and 2 receiver) goes for about 187$ (that the lowest offer found on amazon). The Pixel King will support HSS in case you need it and have the flashes that supports it, but will not support TTL ratio control (this is a nice feature) nor multiple groups set to different power levels. The King is a bit smaller.
Phottix Strato  – This set will cost you about the same as a YN622C set,

but won't pass HSS

.The Strato is a much smaller unit in relative to the King/622C, its size is more like the RF602/3. Phottix strato 3 piece set costs about 160$ on amazon.
Phottix Odin – This triggers offer all the control you'll ever need but costs a "bit" more, a 3 piece set will go for about 500$, you make your decisions. The cool thing with the Odin is the fact that the transmitter has a LCD back screen that will let you control all you flashes!
An inportant fact is that the YN622C can currently work with Canon cameras only, other triggers mentioned above will do other too!
Does it supports your gear?
Cameras:
This breaks down into two types of cameras: TYPE A Cameras – with external flash control menu, You'll get the whole bundle:Cameras that have Menu flash control are: 1Ds Mark III, 1D Mark IV, 1D Mark III, 5D Mark III, 5DMark II,7D, 60D, 50D, 40D, 650D, 600D, 550D, 500D, 450D, 1100D, 1000D.
Manual control – Full Remote Manual Power Control in 3 groups from the camera menu!
ETTL – Full ETT Ratio Control and FEC in 3 groups from the camera menu !
TYPE B Cameras – without external flash control menu: 5D Original, 10D, 20D, 30D, 300D, 350D, 1D and 1D Mark II
Manual – This will let you trigger the flashes, but power level will be set on each flash manually.
ETTL – No ratio , but global FEC control is available from the camera. You can set individual FEC directly on each flash to achieve a ratio though.
Flashes are as above but only global FEC can be set from the camera even with MK II flashes (& Type B cameras)
Flash Compatibility:
Flashes that will support Full remote flash control through the camera menu
Canon – 600EX(RT), 580EXII, 430EXII, 320EX, 270EXII.
YongNuo – YN565EX (for Canon), YN468C II, YN467C II, YN465C,YN568EX.
Other units : Nissin Di866 II (may requir factory reset) Metz – 58 AF-2, 48 AF-1.
Flash units that would ofer partial control:
Manual – Flash power will be set manualy on each flash.
ETTL – Global FEC control is available from the camera. Ratios may be available, though individual FEC can also be set directly on each flash to achieve a ratio if needed
Nissin (without HSS) – Di622 II
Canon – 580EX, 550EX, 430EX
Metz – 54mz4
Nissin (with HSS) – Di866
Sigma – 500 DG Super, 530 DG Super
Sunpak – PZ42X – Confirmed ETTL and FEC from the camera – No HSS.
YN622C – The Bottom Line:
As I've been using manual triggers for a long long time (mainly RF602s) I thought it will be a nice change to try those though camera menu triggers. I almost never use ETTL for my photography but working on manual all the time.
What triggered me to get those (I wanted better triggers for a while) was the fact that they offer HSS and this feature pushed me to get them.
I LOVE IT!!!
I they are amazing that for this price.I like the fact that they are made as transceivers (units can be used as triggers or receivers) rather than its competitors (Odin/King/Strato) that you must have a backup transmitter to be on the safe side.
They deliver all said about plus offering a powerful AF assist!
If you have a camera with flash control menu and the right flashes, go and get them , its a MUST!
Click to view YN622C manual in PDF Format or right click and save as to save pdf manual file!!!
More reviews on the net: