Some Background:
For the past couple of years, Youngnuo had a great success with some really good flash units, their main market was the strobists and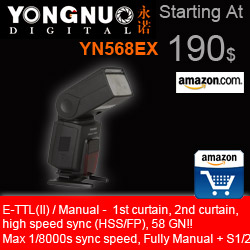 off camera flash users who searched for affordable and good strobist flashes. YN started the revolution (I call it revolution, cause before the YN560 you could only get a Vivitar piece and it was for about 120$, and half the options) with the YN560 and the YN460 (I reviewed their II versions in two other posts, links below), YN offered some amazing value for the money flash units, it was so affordable, that I wasn't so upset when my first YN560 who I got about 4 years ago recently broke `-), but the fellows at YN are now aiming higher. Last year the YN565EX released to the market and offered some decent alternatives for its price to any other Canon/Nikon flash out there. The only default somehow everybody talked about was the fact it didn't has HSS- it will sync to your camera's highest sync speed, but not faster. Now the YN568EX came out, I got one for review and here is my summary.
YN568EX – what do you get:
The YN568EX is packed with features, I start with what you don't get (this is going to be short…)
What You Don't Get:
External battery socket – I must say that I've never used my flashes with external batteries packs, but somehow some are missing this. The 568EX recharges very fast, even a bit faster than my Canon 580EXII.
It can't be a Master – This one can't control other flashes as a master unit. I didn't expected this , but the fact that I use (and I guess most of you do too) radio triggers (RF602/3 or the YN622C) makes this not relevant.
What You Do Get:
PRICE – The YN568EX sells now for about 190$. This is less than (~80$) the Canon 430EXII, but has more features, much more.
Guide Number: 58 (ISO 100, 105mm) .About the same power like the Canon580II, Nikon800/900.
Many Flash Modes: M (Full Manual control) , Multi (Multi flash bursts), Sc/ Sn (canon/nikon triggering), S1/ S2 (Useful optical slave modes)
Zoom Range: 24, 28, 35, 50, 70, 80, 105mm Vertical Rotation Angle: -7~90 degrees
Horizontal Rotation Angle: 0~270 degrees
Recycle Time: Approx 3s (When AA Alkaline cell Used)
Support for all TTL-Features you can imagine – like second curtain sync, FEB and FEC.
Has the sound ready like with the yn565EX, some likes it some don't. If you use it for "studio" you will apreciate this.
YN 568EX First impressions:
YN568EX – Building Quality:
If you havn't hold a YN flash before and are used only to your Canon/Nikon units, you'll think its a bit (just a bit) less. My only two "problems" with the building quality are about the fact they didn't yet managed to make a better battery door lock, somthing more like  the Canon 580EXII, but they still make it like the Canon 550EX /430EX. The other thing is the on/off button – you still need to push a button and hold it down for a moment in order to power it up or shut it down, guys why can't you place a switch !!! Other than that, I don't have any complains, on the contrary, It looks sturdy and feel heavy like the 580. Plastics are good and has a rigid touch. It seems that YN put some effort to make it better and you don't anymore get the plastics you got with the YN460II or other really cheap flashes.
YN568EX – Controls Point of View:
I have to say that the last YN flashguns are very very easy to operate. Switching from mode to mode is made by a press of a button, no "complicated" stuff like with the 580EXII, every thing is easy to understand.
I like the main dial better than the one on the Canon430EXI/II cause it also has the Up/Down option, but still its not a nice switch like the rotate select you get with the Canon 580EXII.
YN568EX – How it works?
Recharging/Recycling – The YN568 is a very fast flash, I'm not surprised about this, as the other YN560EX/II/565EX, it is very good in this test. I always compare it to my Canon 580EXII who I considered to be a fast unit. Those YN recharge most of the time faster than my Canon flash, so they become a real option for my studio photography sessions. The fast recharging time, is why I don't miss the external battery socket, I simply don't need it…

ETTL  Accuracy

– Its pretty good at this task. Its sometimes hard to decide (testing any flash) what is a good ETTL or a bad ETTL, so what I consider good is a consistent exposure: firing some bursts and getting the same exposure. I like it, it does a good job andI'm pleased, tone skins get right and exposures are good. No complains!
AF Assist – I don't know how to approach it. Its a good AF assist beam like with my other YN565EX, but it seems its a bit above the center while you compose for short distances. The Af assist on my YN622C triggers is positioned above the center while you compose for short distances, it makes sense that it will be so, but I first noticed that only when I used my YN622Cs.
HSS – Well this is probably the main thing you'll be interested about when you consider buying this one over the YN565EX. There is a lot to be said about the HSS, I have to say that most of the common photographers won't need this HSS, but if put another 40$ over the YN565EXfor the YN568EX you'd get a newer flash and this HSS. I put some comparisons between the YN568EX and the Canon 580EXII to see the power differences but I have to say that they both seem to look the same. The YN568EX supports up to 1/8000th shutter speeds, but keep in mind that those flashes aren't so powerful at high speeds (You can read more about HSS here). There are two main uses for the HSS:  1.

Shooting outdoors

– if you want to great to shoot open aperture you'll find it very difficult to do so and still remain in the your camera's max sync speed (in daylight or when trying to eliminate any ambient light). 2.

Sports photography

– when tyring to get really really fast action freeze.
Wireless – They main thing that made me get the YN568EX was the fact that its the most affordable flash unit out there to pair with the YN622C. It works AMAZING! It really does it all!If you have a "type a" camera (Controls flash settings through camera menu) you can do all you want with the flash off the camera. You can use it as a slave flash with all the other flash features you can imagine – Canon controller like the ST . A master flash like the Canon 580/550 will do it too (just keep in mind the master unit range factor) . It has the S1/S2 modes which I find very useful when letting my 5 years old kid take some "studio" images with his pocket camera (yes he started to get interested in this…`-)). But in my opinion this is a great flash unit to much with the YN622C triggers.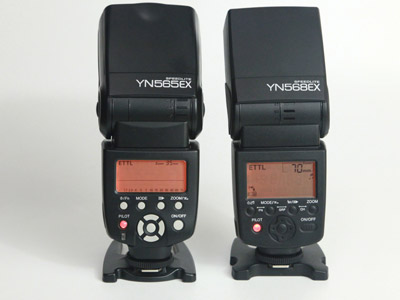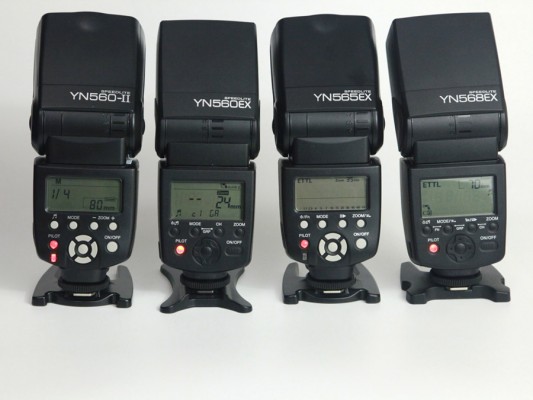 YN568EX Compared to the Canon 430EXII:
The main Canon flash rival to the YN568EX when counting the bucks is the 430EXII, while the yongnou costs less the 200$ the 430EXII costs around 250$, that's about 60$ more, depending where you are buying from. Lets see how we compare those two:
Where the YN is better than the 430EXII:
Sounds – the YN has a sound option to indicate its full charge and other conditions.

The YN has both popup white card and the wide angle diffuser panel.
Has a pc sync port, I don't find any use for it, but there are many who like to see that in their flash.
Price – 60$ less than the 430EXii.
Slave modes – this is a great feature in the YN flashes – S1/S2 are great for us. The Canon does not have any of them.
You can tilt the flash head down, not just up.
The YN rotates horizontaly 180 degrees in both directions, while the 430EXII can go 90 degrees only to right…
Where the is 430EXII better than the  YN:
The 430EXII is smaller than the 568EX, many will find this very useful. I must say that I used the older Canon version a lot because of its size, but since I moved up from RF603 triggers to the YN622c I stopped using them.

The 430EXII is easier to control (in my opinion).
Ono/Off button – the Canon has a button for direct on/off control  while YN flashes are still behind and you have to press and hold the on/off button ot operate it…
Better manual- although YN did some good job in trying to copy it, yet the Canon is more English readable…
Noise – The YN568EX does some noise when zooming, a the begining I thought this is only my unit, but saw that with other too..`-)
YN568EX Bottom Line:
Well I first have to say that I a YN fan for some time, not only cause they do good stuff, but also cause the kind of changed the face of the strobist neighborhood with affordable flashes and triggers, but when I come to "gudge" a ~200$ that people will get it as a main flash rather a  60$ strobist flash I have to look at it from other angles too.
So first of all the 568EX main contender is the 565EX costing just about 40$ more, but give HSS, but more than that it is a newer flash, so I hope it will have less bad net karma than the YN565EX (who suffers of some negative mood in some places).
There is no doubt that the YN568EX is currently the most advanced flash for under 250$ (there are rumors about pixel or photix flash coming soon), two main groups will  use this flash:
Photographers that look for and advanced and powerful on camera flash , for those I can say that the YN568EX looks very good! It will be their first flash and I think that for fully controlled flash this one is a very very good start. If you don't need the HSS just go for the YN565EX.
Advanced Strobists – This flash will be a super matching for the YN622C or other triggers like the Odin or the King. For about 240$ you can get a trigger+flash and this is great!
Buy it if you need the HSS and/if/or you can spend some buck over the 565EX and get a better and mostly, newer flash.
I like the YN568EX, has it all, for only about 190$, you couldn;t get anything for that price 5 years ago!
Update (16/01/2013) : There is a new flash in the YN strobist flash line – YN500EX previewed here it cost about 40$ less but the YN568EX is more powerful (GN58 compared to GN53), what makes the HSS less relevant on the YN500EX.The 500EX however is a bit smaller.
Have any questions or stuff to share, I'd be happy to know about it.